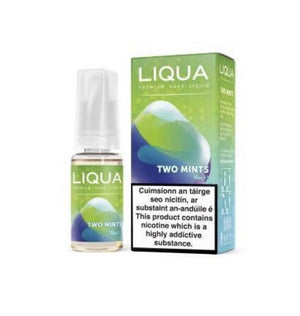 Two mints
One of the most popular minty eliquid. Liqua two mints mixes two types of mints for vaping perfection.
--
Liqua -Two Mints
Two Mints wakes the unbounded power of cooling freshness. Strong flavour with a cooling sensation of peppermint perfectly complements the smooth fresh tones of spearmint. Two-Mints also has slightly sweet vanilla candy base, which delivers a unique taste experience. Overall this amazingly refresh taste will leave a tingling feeling in your mouth and fresh breath.
50% VG - 50% PG
10ml Bottle.
Available in 0mg, 3mg, 6mg, 12mg and 18mg nicotine.
Please select your desired strength from the menu.
PRODUCT CONTAINS NICOTINE, WHICH WILL CAUSE ADDICTION.
It is available to persons over 18 years of age only.