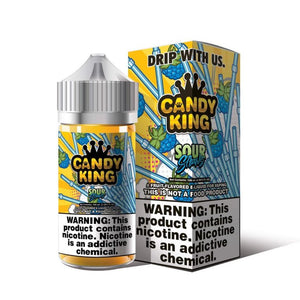 Candy King- SOUR STRAWS 100ML 0MG
Candy King Sour Straws eJuice is a blue raspberry sour straw flavour. On the inhale taste the immediate blast of blue raspberry bombarding its way through your mouth drenching it in a pool of a fruity fog. As you exhale the sour candied notes will make it way into clashing with the blue raspberry allowing the two to become one fantastic flavor that'll leave a little something on your lips to lick off.
This is 120ml shortfilled bottle which contains 100ml of e-liquid with 2 nicotine boosters included.
INCLUDES 2 X NICTOINE SHOTS
RATIO: 70/30 VG/PG