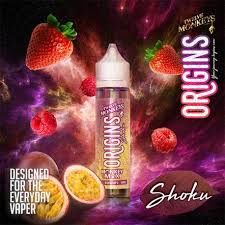 Shoku 50ML
Shoku – 65 VG
Raspberry / Strawberry / Passion Fruit
Shoku is a berry lovers dream, fresh picked Raspberries blended with Sweet Strawberries finished with a splash of Passion fruit.
Shoku - 65 VG
Raspberry / Strawberry / Passion Fruit
​
Inspired by the Swahili word for passion "Shauku", Tribe12M has created this melodic blend for the berry lovers! Primary notes of raspberry and strawberry, finished off with a juicy kiss of passion fruit.