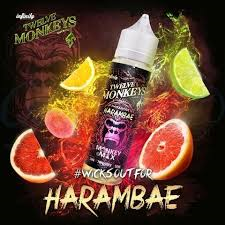 Harambe 50ML
Harambae - 70 VG
Grapefruit / Blood Orange / Lemon / Lime / Guava
Harambae is a citrus mix of grapefruit, lime, blood orange, lemon with undertones of Guava.
This is a 60ml short filled bottle which contain 50ml of e-liquid. Add a nicotine shot to create your desired strength.
--
Harambae - 70 VG
Grapefruit / Blood Orange / Lemon / Lime / Guava
​
Harambae features a tangy citrus unison of grapefruit highlights fused with lemon, lime, blood orange and refreshing guava undertones. The zesty and sharp exhale of this citrus synergy will be the savior to your taste buds when everything else feels dull!