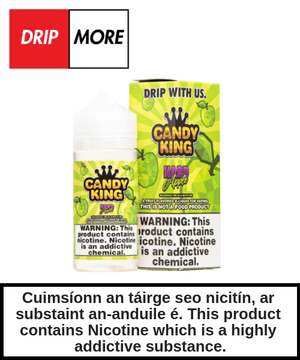 Candy King – Hard Apple
Candy King Hard Apple eJuice by DripMore – Fresh from the Orchard's of the Candy King himself comes Hard Apple e-Liquid. A sour apple flavor that is truly fit for royalty. Inhale for fresh and crisp green apple taste, and then exhale a swirling crown of dense tangy sour apple candy clouds. Pucker up for Candy King's unique sour candy twist.
This is 120ml shortfilled bottle which contains 100ml of e-liquid with 2 nicotine boosters included.
INCLUDES 2 X NICTOINE SHOTS
RATIO: 70/30 VG/PG